Explore Italy's Mosaic Grand Tour
Crafting Towns with Tiny Pieces
Back by Popular Demand! Explore the Enchanting Mosaic Wonders of Northern Italy Once Again.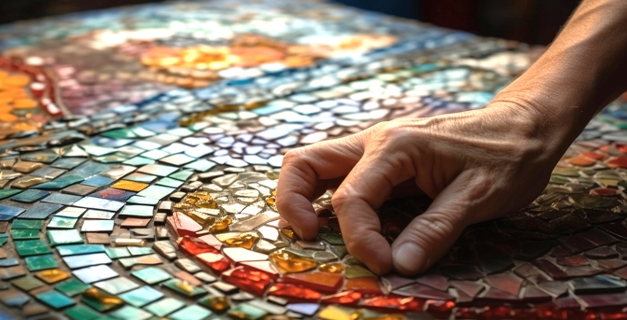 Embark on a one-of-a-kind journey meticulously crafted by Elesta, the tour operator renowned for its original and tailored artistic itineraries, including the captivating World of Mosaics.
Highlights:
Visits to Renowned Mosaic Ateliers: Explore the creative spaces of celebrated mosaic artists, witnessing their intricate work up close.

Hands-on Mosaic Workshops: Immerse yourself in the art of mosaic-making with engaging, hands-on experiences guided by experts.
Meet Mosaic Masters: Interact with true masters of the craft, gaining insights into their techniques and artistic vision.
Discover Mosaic Heritage: Delve into the rich history and cultural significance of mosaic art in the heart of Italy.
Behind-the-Scenes Insights: Gain exclusive access to the mosaic-making process, from design to creation, and learn the ancient secrets of this art form.

Brief Overview of the Itinerary:
Day 1 : Welcome to Milan, explore modern mosaic designs.
Day 2 : Discover ancient Milanese mosaics and visit historic churches.
Day 3 : Travel to Venice, admire St. Mark's Basilica's stunning mosaics.
Day 4 : Explore Murano's glass and mosaic magic, delve into Venice's secrets.
Day 5 : Visit the Spilimbergo Mosaic School and Palmanova town.
Day 6 : Explore Grado's beauty and Aquileia's Roman mosaic floor.
Day 7 : Journey along the Adriatic Coast, reach Ravenna.
Day 8 : Explore Ravenna's UNESCO sites, indulge in a mosaic workshop.
Day 9 : Continue Ravenna exploration, experience another mosaic workshop.
Day 10:Conclude your journey, departure from Ravenna.
Trip Details:
Price: Starting from € 5,200 (double sharing).
Included:
– Private coach travel
– Expert guide
– Entrance fees
– Accommodation (4* or equivalent)
– Private transfers
– Breakfast
– Meals
– Domestic flights (if any)
– Private boat tours (if any)
– Mosaic Workshops
Not Included:
– International flights
– Beverage
Upcoming Dates:
2024, Mar 11-20
2024, Apr 22-May 1
2024, May 20-29
2024, Sept 2-11
2024, Oct 14-23
Join us on this extraordinary journey through Italy's mosaic wonders. Experience the artistry and craftsmanship firsthand as you explore the intricate World of Mosaic!
Contact: Reach out for additional information and customization options.