Sept 11-15, 2023
June 24-28, 2024
Today we can see mosaics covering furniture for the home, objects like decorative frames, sculptures, but also large fountains and monuments found in urban settings.
In this course participants will learn the bases to be able to make mosaics of various sizes in 3D.
Typically the realization of a 3D mosaic is more complicated than a two-dimensional mosaic.
Course Topics
How to build a proper base on which the mosaic will be installed;
3D mosaic, types of surfaces, curves, etc;
How to mosaic corners, edges, curves and irregular surfaces in a proper way;
How to cut and place tesserae (tiles) in a number of cases and sizes.
Types of glues, mortars, tools.. and much more!
Sculpures in Mosaic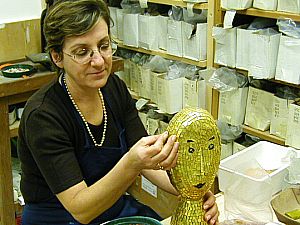 The base on which the students will be working, may be either a simple sculpture to model in the class (we provide a polystyrene cube + tools to work on it), or a solid object, like a terracotta vase, a small wood sculpture, or a frame, brought by the students their own.
In 5 days the object to mosaic should be approx 20x20x30cm (8″ x 8″ x 12″ inches) – larger objects can be made, but they require more than 5 days to be completed.
We can also provide a finished object, ready to cover. In that case students don't have to model, or bring anything.
DURATION: 5 days. It can be extended 5 more days, with additional cost. Contact us for more info.
TECHNIQUE: Direct method on mortar/cement. Use of traditional tools (eg: hammer + hardie)
LEVEL:  Beginner, Intermediate, Advanced
MATERIALS: Natural stones, marble, smalti
CITY TOUR:  The class includes a half-day mosaic city tour with one of our teachers.
PRICE:  in promotion 790 Euro (was 860).
At the end of the workshop will be given a certificate of participation.
Daily Schedule
MONDAY
Introduction to the course. Technical discussion about bases and adhesives used for 3D mosaics. Presentation on the tools for cutting mosaic materials and cutting method. Preparation of the base in a special polystyrene.
TUESDAY
Start work on mosaic using the Direct method.
WEDNESDAY
Work all day on the mosaic.
THURSDAY
Work all day on the mosaic.
FRIDAY
Finishing and refinishing mosaic. Slides commented by experts with cases study of tridimensional mosaics, both antique and modern. Later in the afternoon (time permitting) possible visit to 3D mosaics in Ravenna.
Want to know more?
° ° ° ° ° ° ° ° ° ° ° ° ° ° ° ° ° ° ° ° ° ° ° ° ° ° ° ° ° ° ° ° ° ° ° ° ° ° ° ° ° ° ° ° ° ° ° ° ° ° ° ° ° ° ° °
Additional classes available:
° ° ° ° ° ° ° ° ° ° ° ° ° ° ° ° ° ° ° ° ° ° ° ° ° ° ° ° ° ° ° ° ° ° ° ° ° ° ° ° ° ° ° ° ° ° ° ° ° ° ° ° ° ° ° °