February 12-16, 2024
June 03-07, 2024
(contact for more dates)
The Floor Mosaic is an interesting subject that we could not cover in the Standard Intensive Course.
That's why we arranged this special workshop, part theory, part practical.
In 5 days will be taught the techniques to develop those smooth surfaces exposed to wear, typically used for floors, walls, table tops, garden decorations, etc.
In the workshop will be simulated the installation of a Floor Mosaic Project (usually a Roman-style design)
The participants will be guided through the entire process: how to choose the project, the materials, how to divide the mosaic in sections, how to develop and assemble those parts, the smoothing techniques, and much more.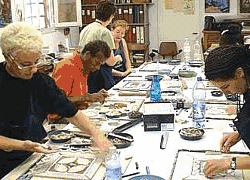 The portions/sections developed by each students will be framed and given at the end of the class, as a beautiful souvenir of the experience.
The workshop is NOT ONLY for a large installation purpose. The same techniques can be used to any smooth surfaces subject to intensive use, regardless the dimension.
DURATION: 5 days. It can be extended 5 more days, with additional cost. Contact us for more info.
TECHNIQUE: Indirect method on contact paper. Use of traditional tools (eg: hammer + hardie)
LEVEL:  Beginner, Intermediate, Advanced
MATERIALS: Marble, natural stones.
CITY TOUR:  The class includes a half-day mosaic city tour with one of our teachers.
At the end of the workshop will be given a certificate of participation.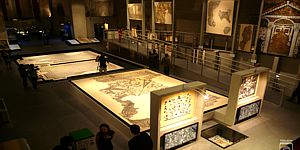 Daily Schedule
MONDAY
Explanation of the techniques. Materials to use, modern and antique, where to find them, how to use them.How to choose the proper subject.Preparation of the work, tracing and cutting.
TUESDAY
Theory & Practice. The methods to develop large mosaic installations. Lesson on glues, binders, mortars, etc. How to divide the mosaic in sections. The participants will work together, in order to develop and assemble a large floor mosaic. Every student will be working an individual section (approx 40x40cm – 16×16″ inches) + one smaller piece, time permitting.
WEDNESDAY
Working on the individual section.
THURSDAY
Working on the individual section.
FRIDAY
The reverse technique on paper. Tour city guide to the antique floor mosaics. Visit to a large installation in progress.
Want to know more?
Additional classes available:
Carpet-Floor Mosaic Techniques
° ° ° ° ° ° ° ° ° ° ° ° ° ° ° ° ° ° ° ° ° ° ° ° ° ° ° ° ° ° ° ° ° ° ° ° ° ° ° ° ° ° ° ° ° ° ° ° ° ° ° ° ° ° ° °