May 13-17, 2024
Break the Rules,
Free your Imagination!
Mosaic has long been considered at the service of painting. Not a real form of art, just a copy or artistic reproduction.
Mosaic art today enables the artist to diversify its uses, and make different types of mosaics, which can be summarized in two types:
Copy of antique mosaics
Copy and/or  reinterpretation of paintings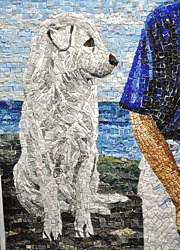 "Free-Style" – Modern Mosaic Course
We arranged this special intensive class, that includes:
Use of the Direct or Indirect Method, depending on the function of the mosaic (wall, floor, 3D, etc.)
Use of traditional mosaic materials: smalti, marbles, stones, pebbles, with the addition of modern materials like ceramics, glass, industrial materials etc.
Maintenance of the characteristics of the original image (whether figurative or abstract) or a personal interpretation both of the execution and the materials and colours
The image brought by the student can be personal, or of a known artist.
The style can be a free interpretation, or a close reproduction.
MOSAIC SIZE: 14×16″ inches; 30×40 cm (A3 paper size)
DURATION: 5 days (more days can be taken at additional cost. Contact us for details)
LANGUAGE: English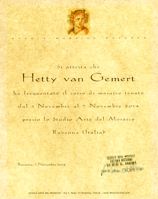 LEVEL:  Suitable for all skill levels, beginner to advanced.
MOSAIC CITY TOUR:  Included.
All materials are included.
CERTIFICATE of PARTICIPATION 
Daily Schedule
MONDAY
Introductory lesson on the characteristics of modern mosaics: materials, techniques, types of representation and function.
Choosing materials, tracing, cutting and preparation.
TUESDAY
Making the mosaic
WEDNESDAY
Continuing work on the mosaic.
THURSDAY
Continuing work on the mosaic. Finishing the mosaic. Lesson on the function of modern mosaic.
FRIDAY
Finishing touches on the mosaic and a discussion on technical difficulties.
Guided tour of the collections of modern mosaics in town (MAR and others).
Want to know more?
° ° ° ° ° ° ° ° ° ° ° ° ° ° ° ° ° ° ° ° ° ° ° ° ° ° ° ° ° ° ° ° ° ° ° ° ° ° ° ° ° ° ° ° ° ° ° ° ° ° ° ° ° ° ° °
"My Italian Mosaic Adventure" by Kimberly Jensen (June 2015 class)

Additional classes available:
Modern Mosaic "Free Style"
° ° ° ° ° ° ° ° ° ° ° ° ° ° ° ° ° ° ° ° ° ° ° ° ° ° ° ° ° ° ° ° ° ° ° ° ° ° ° ° ° ° ° ° ° ° ° ° ° ° ° ° ° ° ° °